About Us
102 F Street
Davis, CA 95616
530.750.1801
530.750.1839 fax
info@seasonsdavis.com
Contact Us
Lunch
Tuesday - Friday 11:30 AM - 2 PM
Sunday Brunch 11 AM - 2 PM

Dinner
Tuesday - Sunday 5 PM - 9 PM

Closed on Monday
Gift Certificates
Gift certificates are available and reservations are accepted for parties of any size. You may call the restaurant at 530.750.1801 or Make Reservations online at Open Table.
Join Our Mailing List to receive special promotions and updates.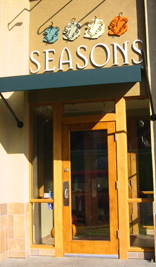 Location
Seasons is centrally located in downtown Davis, at the corner of First and F Street, across from Holiday Cinema and adjacent to the Hallmark Inn. Museums, bookstores, boutiques, and other eateries are within strolling distance. The UC Davis campus and The Mondavi Center are less than one mile away from the restaurant.
Get directions on Google Maps.
From Sacramento
• From Sacramento
• Take Interstate 80 West towards San Francisco
• Exit Richards Blvd. Downtown and turn right off of the freeway
• Drive through the underpass and turn Right onto First Street
• Seasons is located on the corner of 1st and F Street
From San Francisco
• Take Interstate 80 East towards Sacramento
• Exit Richards Blvd. and turn Right
• Drive through the underpass turn Right onto First Street
• Seasons is located on the corner of 1st and F Street
From Los Angeles
• Take Interstate 5 North to Interstate 80 West to San Francisco
• Exit Richards Blvd. Downtown and turn right off of the freeway
• Drive through the underpass and turn Right onto First Street
• Seasons is located on the corner of 1st and F Street

From the Sacramento Airport
• Take Interstate 5 South to Interstate 80 West to San Francisco
• Exit Richards Blvd. Downtown and turn right off of the freeway
• Drive through the underpass and turn Right onto First Street
• Seasons is located on the corner of 1st and F Street